"Oooh, I'm scared! NOT! Only fire can destroy me!" - Roy Koopa
Roy Koopa
Edit
Roy is the bully strong third oldest Koopaling. Roy is more brawn then brains and cares more about violence. Roy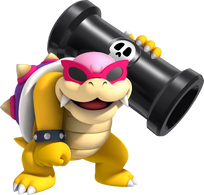 use to wear a pink shell, some think its because some say pink is a manly color. But now he has a purple shell, the color of death. And he wears the pink sunglasses similar to where he got his name, Roy Orbison. Roy also can make the shockwave jump like his brother, Morton. Roy sometimes bullies his brothers, but that is only in the cartoons. Roy is in charge of world 6 mountain world or in NSMBW he had dessert land. Roy takes the role of Bully in the cartoons and is more mean than he is seen to be. Roy loves to battle Mario and bring awesome weapons along too. Roy also has a funny attitude and acts like a bad a.
Ad blocker interference detected!
Wikia is a free-to-use site that makes money from advertising. We have a modified experience for viewers using ad blockers

Wikia is not accessible if you've made further modifications. Remove the custom ad blocker rule(s) and the page will load as expected.