"I hate it when people sneak...unless I'm doing the sneaking!" - Larry Koopa
Larry Koopa
Edit
Larry is supposed to being the youngest Koopaling. He is said to be 9 years old Larry is a sneaky cheater. He has a blue mohawk and has a blue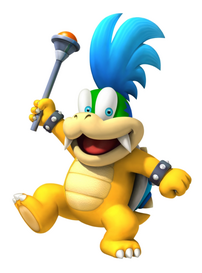 star on the side of his head. Larry use to have 4 teeth but lost 2 in the time of the last game before NSMBW. Larry is the main athlete of the 7. He is seen playing tennis in M&LSS, and bowling in Hotel Mario. He also likes to sing, he sang a song in Gopher Bash, a episode in the cartoons. Larry is the only one who didn't get a new picture in NSMBU, it is unknown why. Larry is named after Larry Mullen Jr. not Larry King. Larry is in charge of world 1 or grassland in most of the games. He got a new land, he took over sparkling waters or water land in NSMBU. Larry seemed to have a bratty or bad-tempered personality in NSMBW.
Ad blocker interference detected!
Wikia is a free-to-use site that makes money from advertising. We have a modified experience for viewers using ad blockers

Wikia is not accessible if you've made further modifications. Remove the custom ad blocker rule(s) and the page will load as expected.